Artist Statement
Artist Statement
It is my desire for my pottery to be an extension of myself. When one first looks at my work, I am less concerned about the "WOW" factor, but rather compelled to seek the quieter, more reflective "whoa" factor that comes with truly observing my work.
There is a simplicity about my forms, yet they might not always be simple. I like to play with the duality of things. I hope one notices the movement expressed through the gentle lines and curves and transcendent qualities that defies time.
I believe that my commitment to exceptional, refined forms and honed throwing techniques and my layered glazes separates my work from others. It is my hope that when handling my pieces one can even sense a quality about them that just feels different. Ergonomics, functionality, beauty, integrity, and playfulness are things factor in when I create. I work very intentionally, intuitively and contemplatively and feel that the kind of energy I put into my pottery matters.
Many of my pieces are rooted in rich a history which stylistically and philosophically connects with Mid-Century Modern artists. In my glazes, I have selected a peaceful and more neutral pallet. They are layered (sometime up to 7 layers of glaze) and have depth - within individual pieces and within the whole collection. While not demanding attention, the simple beauty found in my work won't compete with other pieces within your pottery collection; rather they might prove to be foundational or complementary.
Whether you are having a lovely dinner party for 12, or snuggling up on the couch eating in front of the TV, it is my hope you find the casual elegance of my pottery line will enrich your soulful moments and connections.
Biography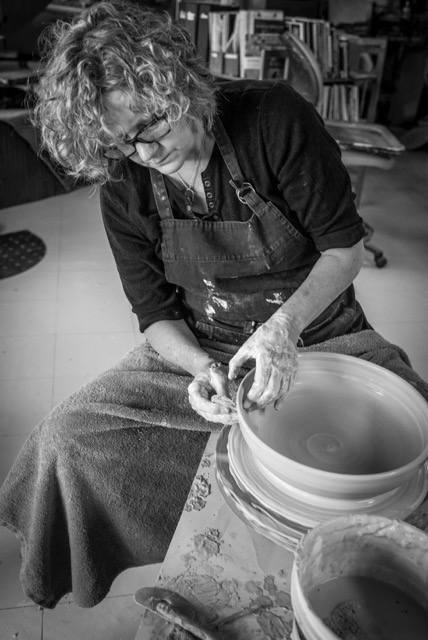 My journey with clay began in 1996, as an undergraduate art education student with an emphasis in ceramics. I am a full-time studio potter working in the Chattanooga area.
Prior to establishing my first pottery studio in Chattanooga in 2001, I taught High School art in Trenton GA, and in 2004 I taught beginning pottery at Warner Park in Chattanooga. Since 2005, I have been exhibiting and selling my work at the Chattanooga Market and various galleries in the area. In October 2010, two of my pieces were chosen to be exhibited in The Biennial - The Best of TN Crafts in Murfreesboro, TN. March 28 – April 15, 2011 one of my pieces will be in the juried exhibition at the Potters Council 2011 Exhibition: The Shoulders We Stand On in Tampa, FL.
As I began working with clay, I found ceramics to be a very spiritual, as well as process-oriented activity that holds many life lessons. My work is both utilitarian and decorative, so that I try to find a balance between aesthetics and function. Using stoneware clay, I throw forms on the wheel as well as hand build. Some of these forms are altered on or off the wheel and many have paddled or textured surfaces. I would describe my forms as organic, sophisticated, yet simple and playful. There is a sense of movement and energy that radiates out of them.
In part, my work reflects what I learned while being a student and apprentice (2007 – 2010) of the late Talle Johnson. Talle shaped my philosophy, shared many techniques, and helped me integrate my own ideas into my work. Perhaps the strongest influence he had on my work was the emphasis on form. In 2010, we received a Tennessee Arts Commission/Tennessee Association of Craft Artists - Master Craft Artist/Apprenticeship Grant. This culminated with my work being shown at the Tennessee Arts Commission gallery in Nashville as well a piece being purchased by the Tennessee Arts Commission and added to their permanent collection. My work was also exhibited entitled "Full Circle" along side that of Talle Johnson at Cumberland University, in Lebanon, TN in October 2010.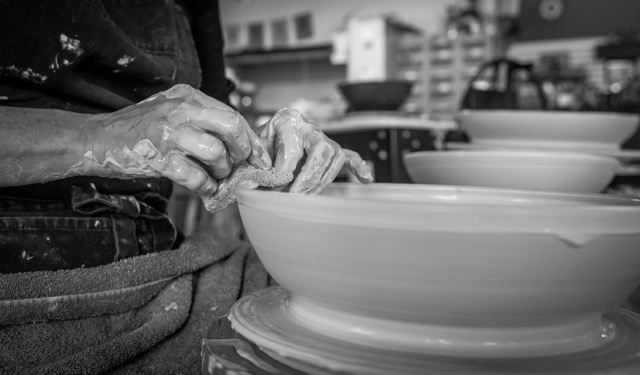 The development of my art has varied over the years. My earliest craft and artwork consisted of wheat weaving, in the tradition of European rural cultures. In 1992 and 1993, I taught wheat weaving sessions during Folk Art classes at the Ghost Ranch conference center in Abique, NM, and offered my pieces at numerous craft shows throughout Oregon and New Mexico. As a craft person I branched out into making jewelry with copper and silver. My love of texture, weaving, jewelry is often incorporated into my ceramics.
I completed my BS degree in Art Education at the University of Tennessee, Chattanooga in 1998. While at UTC, I achieved academic honors and was given the outstanding senior award in Art Education for 1998. Prior to attending UTC, I studied at Marygrove College in Detroit, MI.